Welcome To The Flamingo Net!
The Flamingo Net is a south Florida amateur radio club. We have been active since 1954 as a social group for Hams. Most of our activity takes place on the ten meter band, but we also use two meters.

We meet on the air each Friday night, starting on 29.044 MHz at 7:30 PM Eastern time. At 7:45, we move to the Broward repeater, 146.910 MHz (-.6, PL 110.9). At 7:55 we go south to the K4AG repeater, 147.150 MHz (+.6, PL 94.8). At 8:00, we return to ten meters on 28.444 MHz. We welcome check-ins!

Our activities include hosting Free Fleas (jointly with the UMARC) on the third Saturdays in April and November. These are held in the Physics parking lot of the University of Miami Coral Gables campus. We also hold BBQ's, picnics and dinners at various times throughout the year. We also hold lost transmitter (FOX) hunts (on both ten meters and two meters).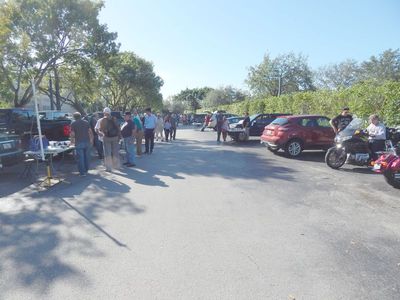 Updates
This site was constructed on April 18, 2003. I will try to keep it updated as to recent or upcoming activity.
The Flamingo Net held the 2m Vehicular Fox Hunt (Superboree Hunt) on a Sunday morning February 4, 2018. The fox Bill, WA4TEJ, was hidden in River Run Park just west of Douglas Road on Miramar Blvd. in Broward county. Bill began transmitting at 10:50 and the first finder team (Chip and CJ) came in a bit under an hour later. Finding the mini fox proved to take a bit longer, but Chip was able to accomplish the feat just ahead of Stu, KD4JSD. Phil (KI4DYS) and Ray (KB4HAY) came in shortly thereafter. Chip and CJ will hide the next fox on a Sunday in May, 2018. See the What's New Page for more information including boundaries. These hunts, like most of our events, are open to EVERYONE (not just Flamingo Net members), so come to the hunt and find out how much FUN they are!!
Our next free flea will be on Saturday morning April 21, 2018 in the Physics Parking Lot, 5101 San Amaro Drive, at the U. of Miami Coral Gables Campus. Talk-in on the K4AG repeater, 147.150 (+6, PL 94.8). The flea starts at 7:00 AM and goes to around noon.
A Picnic/BBQ will follow the Free Flea at noon on Saturday April 21, 2018. It will be held in Brewer Park, just west of the U. M. campus on Miller (just beyond 62nd Ave.).
The next Flamingo Net UPay4WhatUEat (UP4WUE) dinner will take place on Sunday Evening, May 6, 2018.
For location and driving information to any of our events, see the "What's new" page.
The November 2017 Flamingo / UMARC Free Flea .
Ways to contact The Flamingo Net

To contact us, either check-in on the air or e-mail me at wa4tej@juno.com . Fred, N4YQT, has set up a FaceBook page for us at
https://www.facebook.com/groups/FlamingoNet/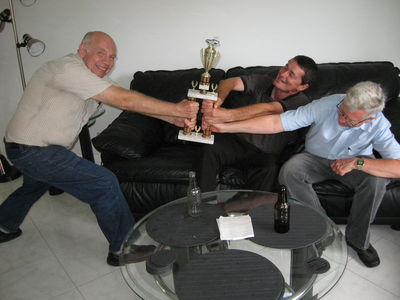 Fox Hunt 6/12/11 Debate over who found Fred first. Left to right: Bill (WA4TEJ), Ray (KB4HAY) and Phil (KI4DYS).